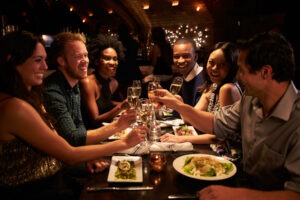 Don't waste another year not handling chronic issues in your organization.

Look at your calendar. The end of the year dictates that you have a plan in place for your company for next year.

In a world that's rapidly changing and uncertain, shorter ranges of strategy – quarterly and annually – become even more meaningful than the legendary long-term plan.

The Soviet Union had 12 five year plans. The last one ended a year before the Soviet Union did.

So focus on next year and create what you want to happen with your people and in your restaurants.

Make a sober and realistic assessment of your team: where they excel, where they can become better, and especially where they seem to be challenged.

Identify parts of your business that attract a lot of talk, consideration, and attention, but never seem to be conquered.

Matthew's Top Five Topics to Handle

Companies catapult forward when they use what comes naturally to them and simultaneously bolster those lagging areas.

In this year's remaining weeks, I will be writing to you in more detail about each of these five topics:

Do You Hear More Talk Than You See Results?
 
Do the good people you have hired to lead your organization talk about increasing results, or do they actually increase results?

Does your business progress to allow you to maximize your personal freedom? Or do you feel more and more tethered to being at work?

The past does not equal the future. Top athletes learn to forget about the last play – especially if it went wrong – and be in the moment to run the next play.

The best operators and my best clients stay conscious of that, and take advantage of that sense of annual renewal the calendar gives them.

What Would Make 2023 Fantastic?

When my clients improve their companies, they inevitably look at me and say, "I wish we had done this sooner."

I felt more than pleased last week when one of my clients reviewed the 2023 plan I collaborated on with their Operations Director, telling me it looked fantastic.

Over to you.

What would make your 2023 fantastic?

What strategy have you assembled for the coming year?