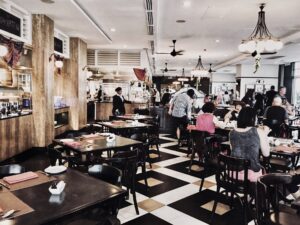 Last week, Restaurantowner.com asked me to do a webinar on 2022's five most valuable multi-location initiatives.

You can view the webinar here.

In a hurry? Short attention span? Read this summary of my message.

Beat the competition by providing the amount of hospitality guests demand.

In an era of robots and apps, we exist in a people business. True hospitality inspires guests to be happy and tell their friends about your restaurants. Make sure you talk about hospitality first, before money. Be realistic about the hospitality quotient in your restaurants. Honesty about weak areas leads you to bring them up to standard or better.

Instantly add 2 points to your bottom line.

I never thought I would become a national advocate for non-cash adjustment. I started as a skeptic. The only person who pays for anything in a restaurant? A guest. Right now, we're living in a climate that enables you to pass along your credit card fees to guests. My casual dining clients save millions of dollars doing this. I can't find any operator who started non-cash adjustment and later changed their minds.

Retain and develop managers who learn to take complete responsibility for their restaurants.

Plenty of current economic data is concerning, but one solid piece of workforce data plays in our favor: People choose jobs, and stay in those jobs, when their education, skills, and power grow. Meanwhile, some operators still think management equals checklists and tasks. When their people rise to a certain level, they stop developing them. Don't make that mistake.

Hire senior management who increase results, strengthen companies, and (more than) pay for themselves.

Talented multi-unit people can help your company. They allow you to import a new level of knowledge into your organization and give you more freedom to focus on what you enjoy doing – because they can handle operations. Plus, finding them right now is less difficult than recruiting unit-level management.

Enjoy the financial benefits of your life's work without selling.

"Retiring in place" refers to becoming an owner of a business that other people operate – as opposed to selling. This scenario looks more and more attractive to so many people I talk to, because the multiple of earnings yielded by selling adds up to a lot less than continuing to own for a lifetime.
Over to you.
Which one of this Top 5 offers the most benefit to you and your organization? How will you start?